What's a typical Saturday morning like for you? Most people would probably enjoy a well-deserved lie-in with a cup of strong tea and some relaxing TV. But if you happen to work at Bentley's Crewe headquarters, your Saturday morning might be a bit more exciting.
Around ten percent of Bentley's workforce is involved in the Pyms Lane Motor Club, which organizes occasional "cars 'n' coffee" gatherings that happen early on Saturday mornings, conveniently located right by the office car park. This enthusiastic group isn't driven by career ambitions but rather by the opportunity to share their personal passion projects with fellow colleagues who share their love for automobiles.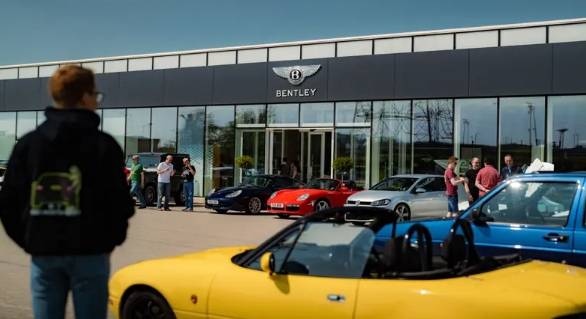 "The club, now celebrating its tenth year," explains Steve Crowe, founder of the club and a build quality manager at Bentley, "provides a wonderful opportunity for individuals from various departments to connect with one another. Most importantly, it's a fantastic platform for car enthusiasts to gather and engage in passionate conversations about automobiles. Especially on a beautiful sunny day like today, it's an absolute delight!"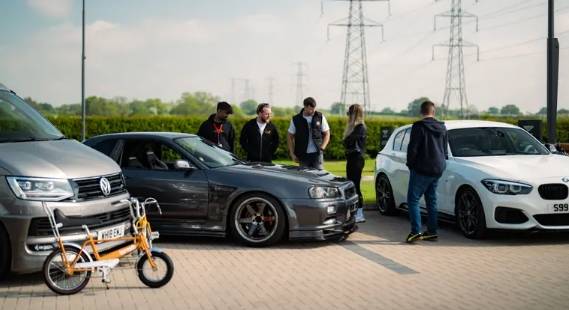 "I absolutely adore the eclectic nature of our club," expresses Steve Crowe, with enthusiasm. "Our club logo showcases a car, bike, and truck, symbolizing the diverse range of vehicles we embrace. We even had a member who used to bring a massive 40-tonne Foden lorry to our gatherings. It's fascinating to see the connections we have with Foden, considering their close proximity in Sandbach. In this club, it's all about celebrating and showcasing any kind of vehicle, regardless of its type or make."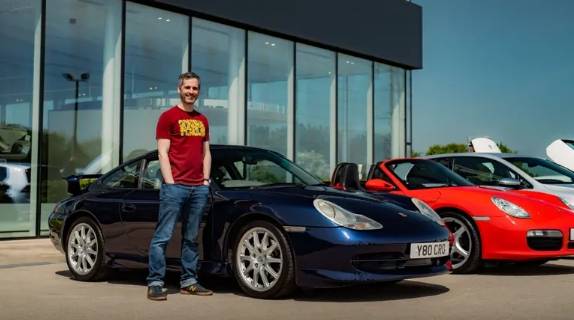 Steve proudly owns a 2001-era Porsche 911 as his personal vehicle. Specifically, it is a 996 Carrera 2 manual model equipped with the official AeroKit. He shares:
"I've cherished this car for five years now. Prior to it, I owned a Porsche Boxster of the 986 generation, which happened to be in the same color. However, I had always yearned for the distinctive appearance of the 996 GT3, which is enhanced by Porsche's AeroKit."
With its GT3-like appearance, Steve's Porsche 911 stands out, but what sets it apart is the presence of rear seats. He shares:
"I used this car as my daily driver for approximately five years, but I recently switched to a BMW 120d coupe. It's a significant improvement in terms of fuel economy, which was a big factor in my decision."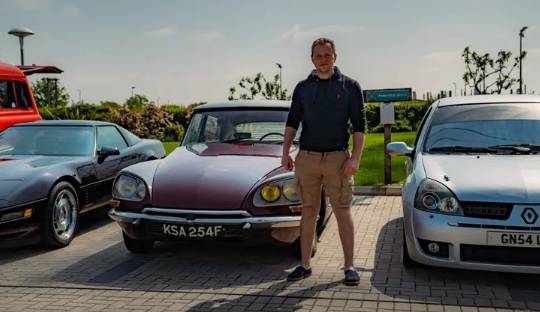 Louis Tyson, an R&D employee, showcases his collection of French cars with pride, including a charmingly authentic Citroen DS. He shares:
"After owning a Boxster and becoming frustrated with the expenses, I wanted a change. I've invested more than the Boxster's value into parts for this Citroen DS, and yet it still maintains its 'shabby chic' appearance! It was quite a wreck when I first got it, but I've put a lot of effort into restoring and improving it."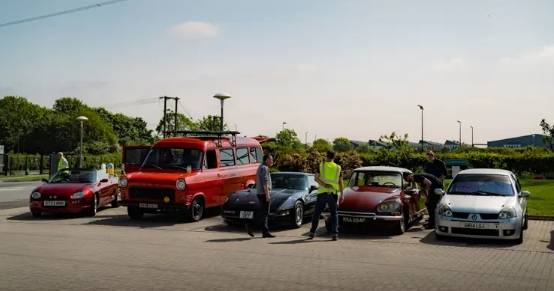 Continuing the conversation, Louis adds:
"I consider myself fortunate to have a spacious driveway. Almost every weekend, I find myself engrossed in various projects. It's a refreshing change from my strategic work at Bentley and allows me to reconnect with my passion for cars. The emphasis on comfort in the Citroen DS aligns well with Bentley's philosophy. Sitting in the driver's seat feels like sinking into a luxurious armchair."
One vehicle that surely catches everyone's attention is Andy Briggs' ex-fire service Ford Transit. Andy, who specializes in powertrains at Bentley, certainly knows how to make a statement with his unique choice of vehicle.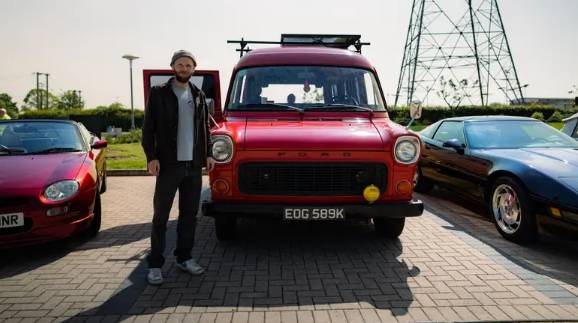 Andy openly acknowledges the unique character of his ex-fire service Ford Transit, stating:
"It's filled with holes and history."
He transformed the vehicle into a campervan for his family, with two young children who thoroughly enjoy playing inside. As they prepare for a two-week trip to Cornwall, the presence of the van's original horn and some remaining fire service switchgear adds to the excitement and charm for the kids.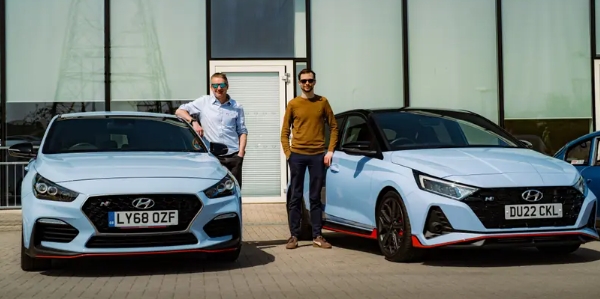 Interestingly, the i20N and i30N Fastback have not coincidentally arrived together. The owners of these vehicles, who come from different departments within Bentley's workforce of 4,000, are not acquainted with each other.
Engineer Peter Lane shares:
"I own a 2003 Elise, but the i30N is my everyday family car. Recently, I drove 1,000 miles in Scotland, exploring its exhilarating roads. On one occasion, I spotted another i30N approaching from the opposite direction. We both decided to pull over and had a delightful conversation."
Remi Grijol, a vehicle safety specialist who arrived in his equally vibrant i20N, adds:
"Whenever you spot another N on the road, it's customary to give them a wave. I'd love to have a Veloster N, but unfortunately, they're not available here."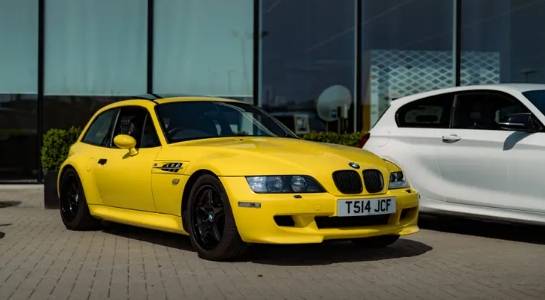 Max Wettern, who handles production control at Bentley, proudly showcases his 24-year-old Dakota Yellow BMW M Coupe, shining even brighter than the Performance Blue hot hatchbacks nearby.
"Considering its age, it still looks pretty good, doesn't it?" he remarks with a smile.
The timeless design of the BMW M Coupe has undoubtedly stood the test of time, and this particular specimen has received special care to maintain its fresh appearance with recent bodywork and paint attention.
"While I'm not particularly fond of modern BMWs, this one, and anything produced before it, has a special appeal to me," Max explains. "If you were to show me a 507, I'd be absolutely captivated."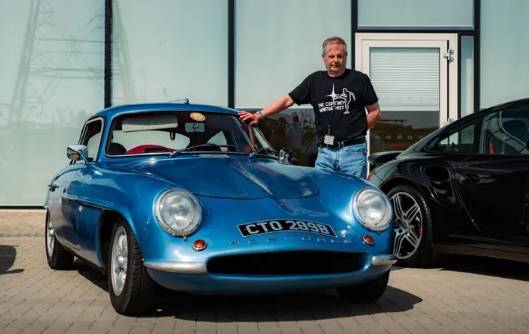 Have you ever come across a Rochdale Olympic out on the streets? You might have a higher chance than you think. According to Howard Evans, the current chairman of the Rochdale Owners Club and proud owner himself, out of the 450 Rochdale Olympics ever made, approximately 40 are still actively driving on the road. The sports car, with its advanced glassfibre body, was quite a pioneering vehicle when it was introduced in the early 1960s.
"It's now a more affordable entry point into the world of classic cars compared to a Lotus Elan or Elite. You can find a project car for just a few thousand pounds, while a decent one would cost around £7,000-£8,000. The majority of our owners' club members are from a certain demographic, but we're pleased to see younger enthusiasts joining us, which is fantastic."
Howard's journey with Bentley began in 1969 when he joined as an apprentice. Currently, he works in radio frequency compliance, a role that is more intriguing than it may seem. With every car equipped with numerous transmitter devices, ensuring they work flawlessly in all the markets where the cars are sold is no small feat. Moreover, Howard brings a wealth of experience in electrical architecture from his work with other renowned UK automotive brands.
"I had the opportunity to work on the electrical system of the SLR at McLaren," he shares, "ensuring its seamless integration with the carbon fiber monocoque." He appreciates the spirit of this gathering. "It's refreshing that you don't have to apologize for being a petrolhead in this environment."
And indeed, the diverse range of vehicles on display validates this sentiment, with powerful motorcycles coexisting alongside modified Saxos.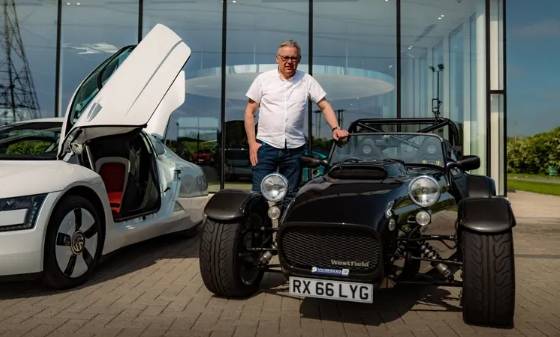 Andy Dowler, who specializes in exterior hardware at Bentley, including "sill mouldings on a Bentayga" to be precise, has attended his first Pyms Lane meeting after spending nine years at the Crewe facility. The sunny weather provides an ideal backdrop for showcasing his Westfield, powered by a Honda VTEC engine.
Equipped with grippy tires, a rev-happy 9,000rpm engine, and a sophisticated differential, Andy's Westfield car is built for road enjoyment rather than track performance. He has exciting plans for the summer, as he intends to embark on an Alpine adventure, exploring Modena and getting a glimpse of Bentley's competitors. Joining him on this journey will be three other Westfield owners, and they will stay connected using an intercom system to maintain contact during their convoy.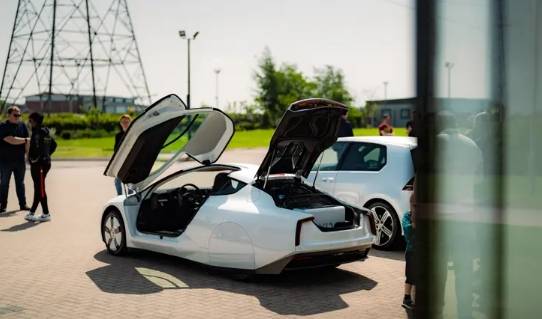 We had the opportunity to borrow a Volkswagen XL1 to attend the Pyms Lane Motor Club gathering in style, bringing together this peculiar and extraordinary (yet decade-old) vision of the future with individuals who had last seen it during its development phase, as they tested Bentleys alongside it at VW Group's Ehra-Lessien test track. One of the highlights of bringing it along was the cost-efficiency – a 300-mile round trip to Crewe only amounted to approximately £15 ($19) in diesel fuel.