An unusual project was implemented by the Hoonigan team
The American team Hoonigan, which, in addition to preparing cars for racing, builds exclusive cars, presented its new project at the SEMA tuning show in Las Vegas. Specialists built the Ultimate Ridgeline IndyTruck, a one-of-a-kind Honda pickup truck, in which there was a place for an engine from the IndyCar racing series and separate components from the Acura NSX sports car. After the exhibition, they promise to take the unusual mid-engine car to the race track and try it out.
As a base model, the tuners used a 2017 Honda Ridgeline pickup provided by Honda Performance Development (HPD), which was equipped with a 2.2-liter V6 petrol turbo engine of the HI18TT family, which HPD builds for the cars of the American IndyCar series. Just like that, it was not possible to combine the car and the power unit, so the car was subjected to serious revision.
The pickup truck lost its cargo compartment, instead of which a 700-horsepower engine was installed. Since it plays the role of a structural structural element in a racing car, a suspension with Moton racing shock absorbers was attached to the engine in the Ultimate Ridgeline IndyTruck. They also appeared in the front suspension, for which it was necessary to make a new subframe and install hubs from Acura NSX.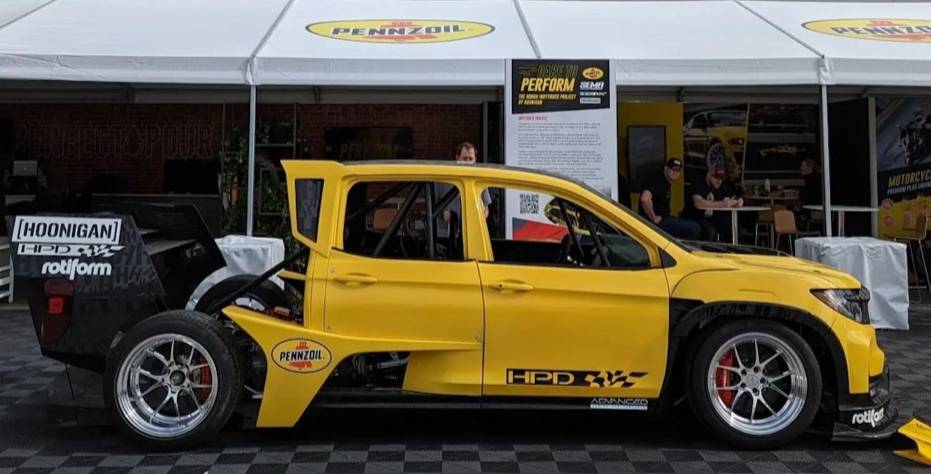 The turbo engine, which is equipped with a starter, is combined with a racing 6-speed Xtrac 1011 sequential gearbox, on which a diffuser and rear wing are mounted. The Brembo carbon-ceramic brakes are borrowed from the Acura NSX, while the 20-inch Rotiform LTN forged wheels wrapped in Pirelli P-Zero tires are tailor-made for the project.
The unique pickup, devoid of a body part, is additionally reinforced with a roll cage, and the standard panels are replaced with a carbon fiber and fiberglass body kit from Advanced Fiberglass Concepts. Inside, there are Recaro Podium carbon fiber seats with Willans six-point seat belts, a MoTeC multifunctional instrument panel, a Momo Protopito steering wheel and a Tilton pedal assembly.